The Uniquely Yours Bridal Showcase presented by Astro Entertainment is considered the best and most diverse bridal event in Virginia. It will continue to focus on assisting couples with planning their special day and exposing them to the newest bridal trends and fashions. The 15th annual showcase on January 21, 2024 at the Virginia Beach Convention Center will be bigger, better, and more exciting than ever!
The Uniquely Yours Bridal Showcase features the area's top wedding vendors and is the largest and most anticipated bridal and vendor event in the state. Uniquely Yours strives to bring all of the wedding essentials together to make the couples' wedding fabulous, memorable, and easy to plan! Our Showcase features the most professional vendors in the wedding industry. Everything from venues, cuisine, entertainment, photography, videography, and fashions will enhance your bridal experience! Join us for our on-site bridal gown Pop Up Shop where you can buy the dress of your dreams.
Every year we dedicate a special scene in our fashion show to breast cancer survivors, with a portion of the entrance fee being donated to Susan G. Komen for the Cure. To date, we have donated more than $45,000 to the organization.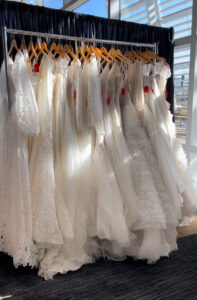 Find Your Dream Dress at an Even Dreamier Price!
During the showcase, a bridal gown pop-up shop hosted by Avenir Bridal Boutique and Silk Bridal Studio will be available for you to find your dream dress at discounted prices! No appointment is necessary, and you can browse, try on, and purchase your gown on the spot!
2024 SHOWCASE PRESENTED BY