The sky's the limit with the high quality of culinary talent at today's catering companies. When it comes to choosing a cuisine or theme for your wedding or wedding-related event, many catering chefs have areas of culinary expertise 
that lend themselves naturally to fabulous dining experiences.
TIME OF DAY

Before you make the big party decisions, consider the time of your reception. No one wants to eat dinner at 11a.m. or 11p.m., so don't feel obligated to serve a full, plated meal during early or late receptions. Be sure to clue guests in to the food they can expect. A simple line like "dessert reception immediately to follow" on the invitation will preclude any food-related mysteries.
Dinner is appropriate when the reception begins between 6 and 9:30 p.m. Morning and day alternatives are: breakfast (9-11 a.m.) brunch (11a.m.-2p.m.) lunch (12:30-3:30 p.m.) and tea (3-5p.m.) Later in the day choices are: cocktails (5-7p.m.) and dessert (9-10:30p.m.)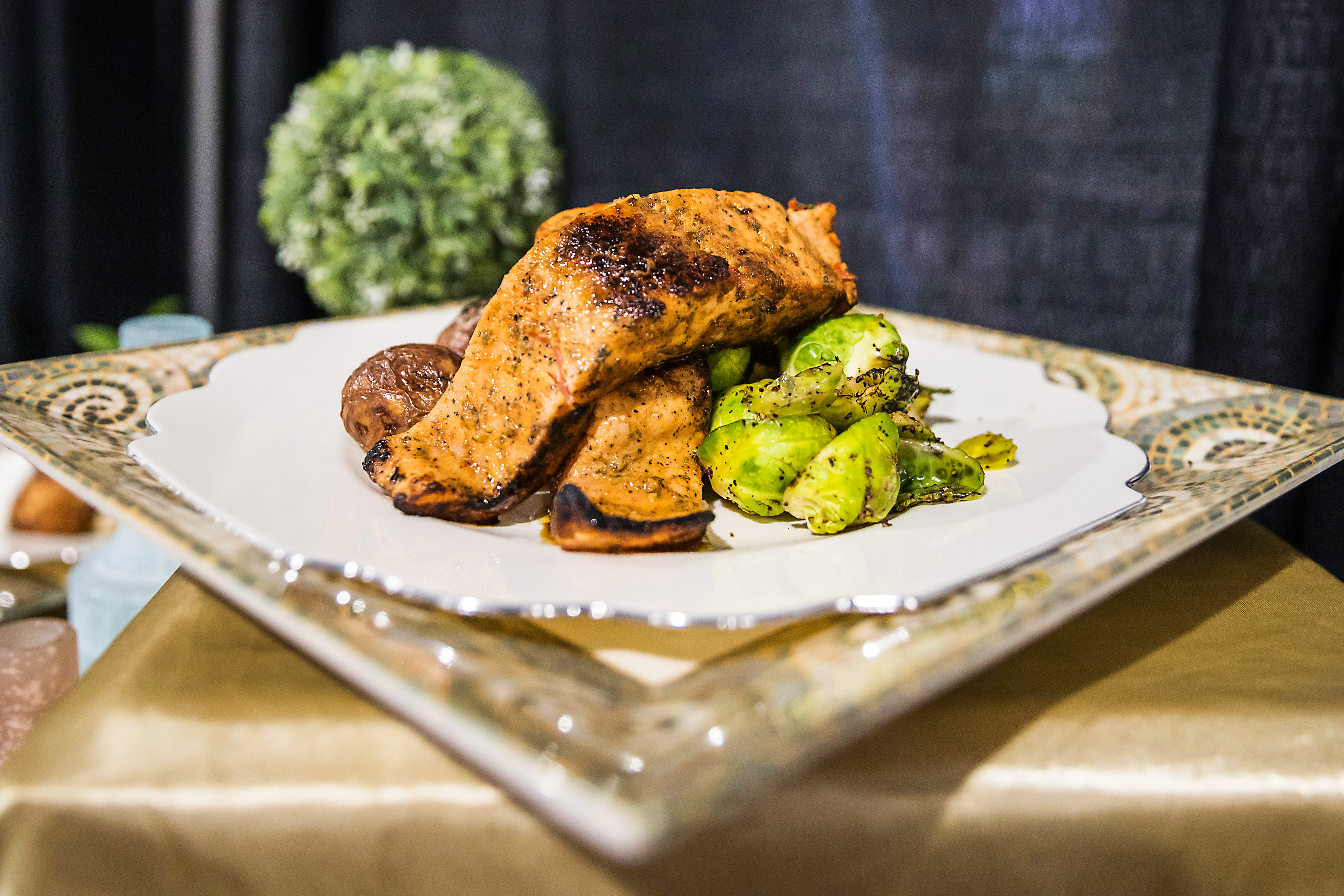 A MATTER OF STYLE

Plated dinners
Receptions no longer demand a formal sit down dinner. Despite the prevalence of seated dinners, the time of day and style of your wedding truly dictates what to serve and how. A Spanish Tapas reception not only features great cuisine, but the sharing of these "little dishes" can help break the ice by inviting new family and friends to interact while dining. Cuisine themes can run from the more traditional Italian, French, and Continental to Asian, Mediterranean, Latin, and modern eclectic. Creating a pleasing table of sweet treats or a sundae bar can highlight the culinary end of the evening.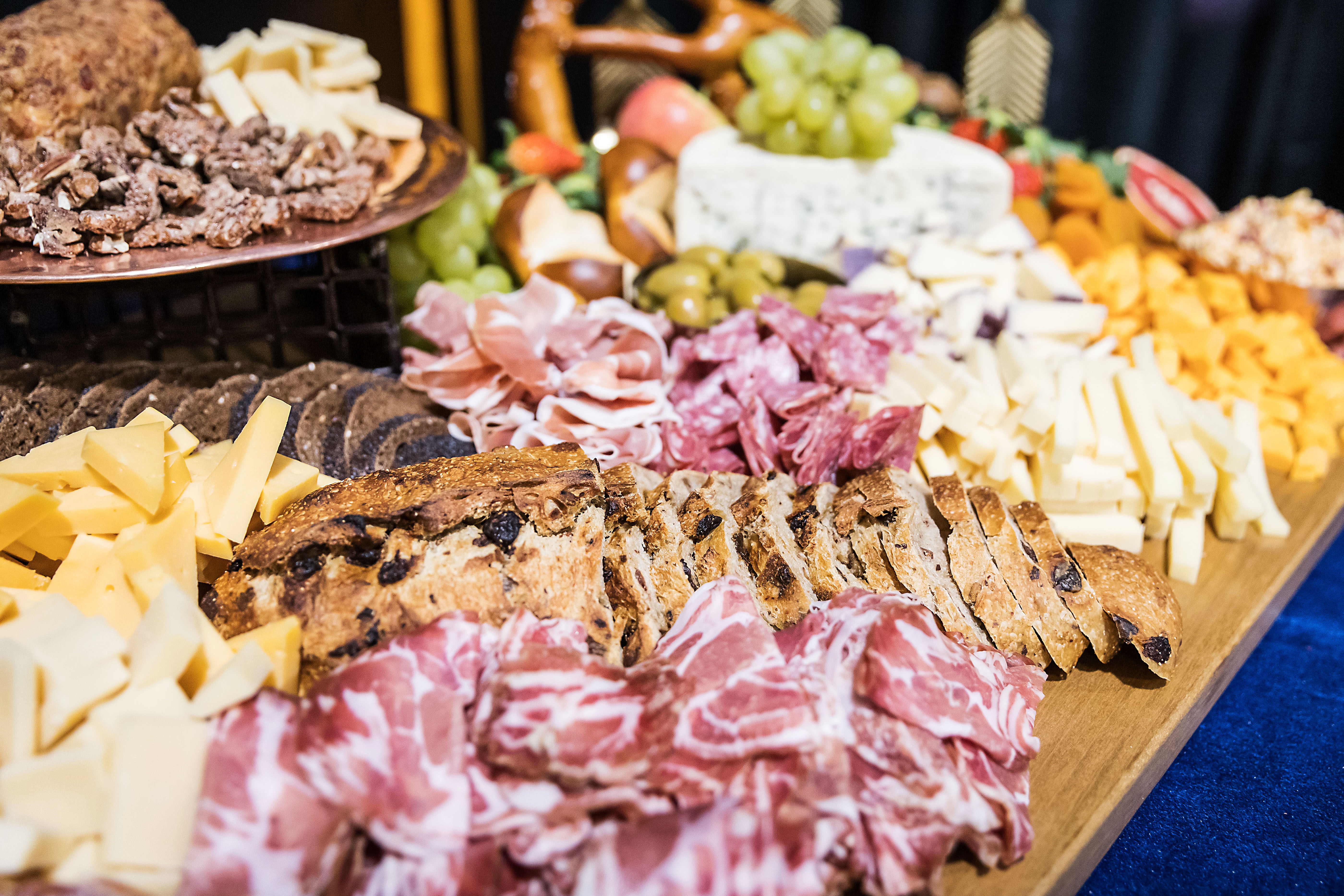 Buffets
A self-service buffet is more than fitting for an outdoor morning wedding, but feels too casual for a formal, late afternoon church service. The style of your nuptials shows you how best to serve your guests. Buffet meals can be simple or fancy. It depends on whether you want a casual self-service feast, or one attended by uniformed servers. Complimentary food stations often offer hand-carved meats or made to order specialties like omelets. Understand that full buffets cost as much if not more than a seated dinner because of the amount of food served and the number of attendants needed to replenish the chafing dishes. While a buffet is not necessarily a cost-cutting choice, it is a popular one. Guests can eat their fill and choose from a variety of foods.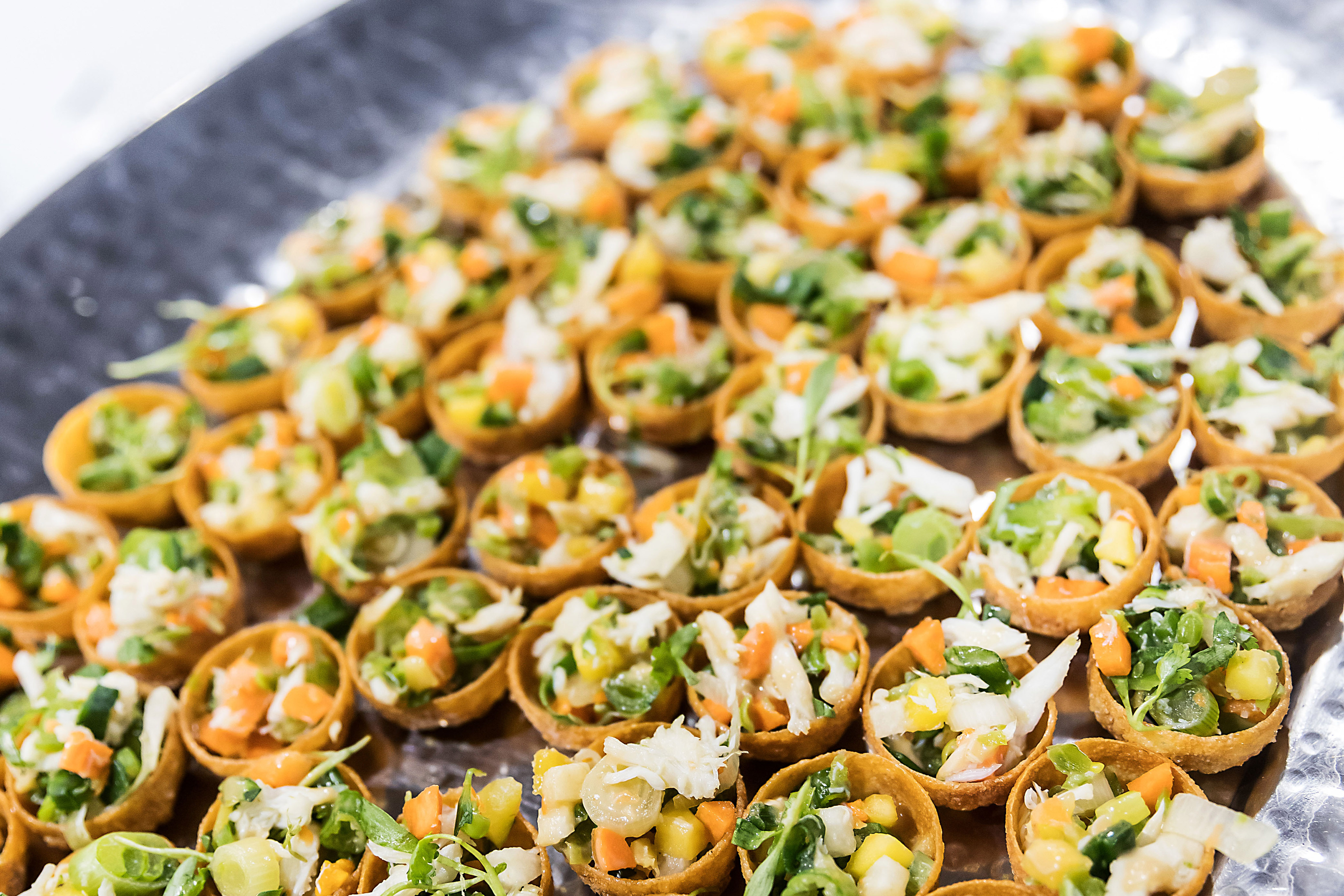 Heavy hors d'oeuvres 

The beauty of hors d'oeuvres lies in the simplicity. While these finger foods aren't a full meal, they certainly can replace one. Heavy hors d'oeuvres are a popular, swanky, people-pleasing substitute for plated food. Your reception takes on an air of elegance when the trays are offered by tuxedoed waiters. Self-service hors d'oeuvres is the way to go for more casual brides. Hors d'oeuvres-only receptions should serve at least six different hors d'oeuvres for a two hour party. Choose nine selections for four hour affairs.

TASTY ALTERNATIVES
Several reception alternatives and specialty services can give you the opportunity to control cost and throw a stylish party for your guests.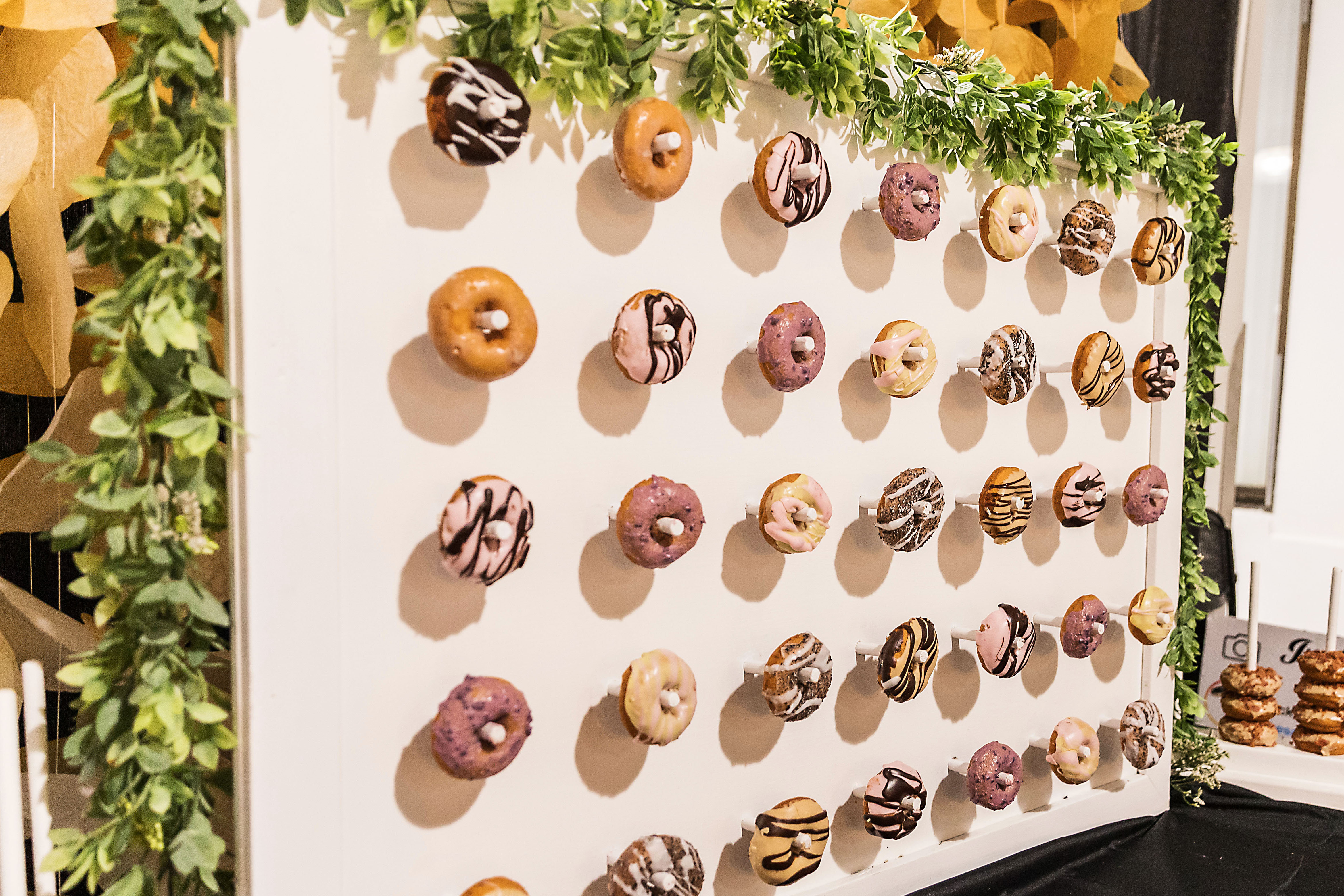 Brunch/Breakfast
Whether served sit-down or buffet style, these meals are more affordable than dinner. Some couples have even gone with a fun menu of "Brinner" for their guests (breakfast for dinner!)
Signature Cocktails

An effective way to control your bar cost at your event is to serve beer and wine only. But for some, there is still a desire to have something fun that guests can enjoy if the limited choices of beer and wine are not to their liking. Signature cocktails are extremely popular and are typically designed to reflect the couple or the geographical location of the wedding. Accompanied by creative signage, a fun "photo op" has been created!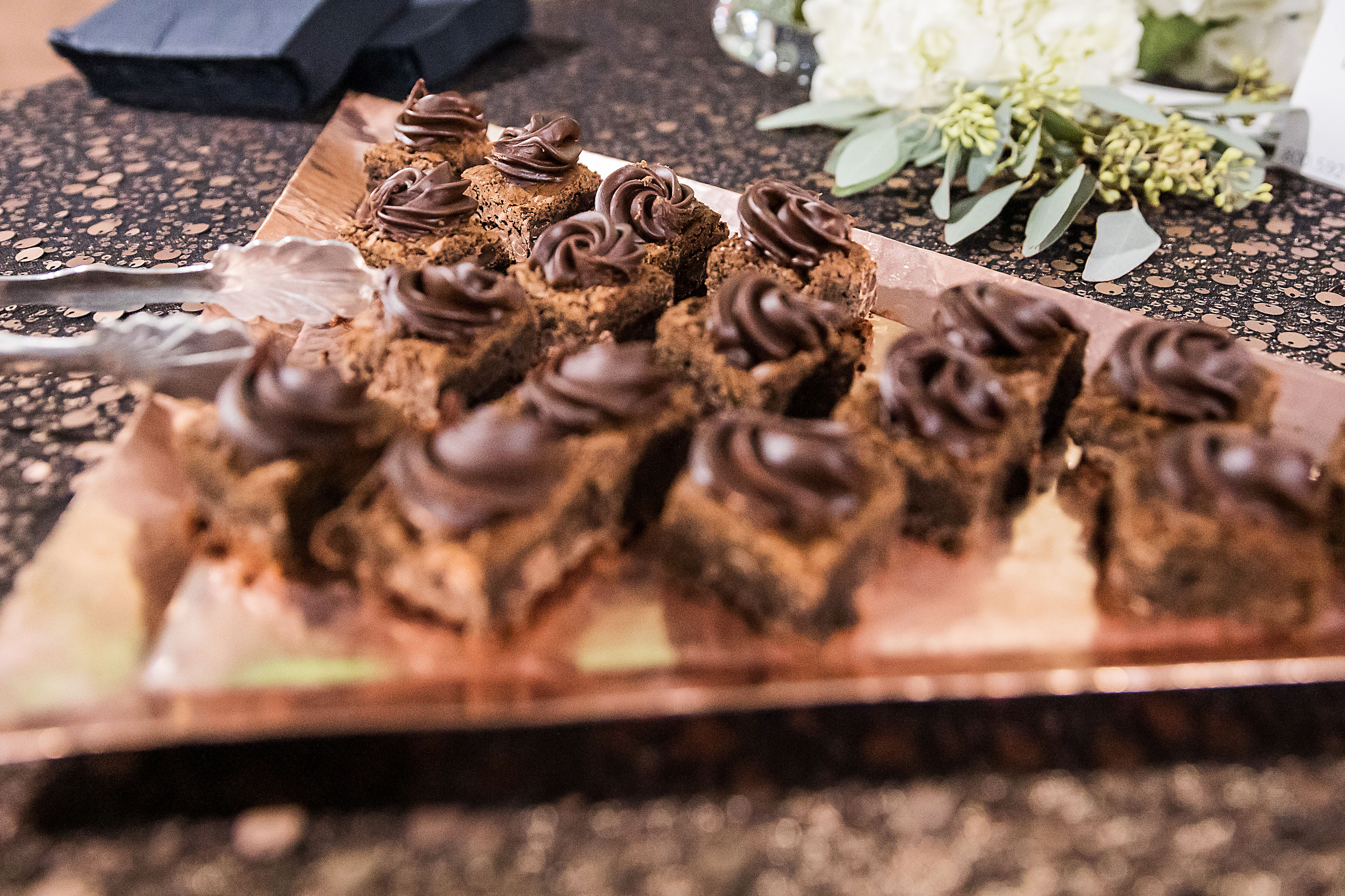 Candy and Dessert Buffets
Very popular today are dessert and candy bars laid out in a fashion that is pleasing and that complements the overall wedding reception decor. Decorative "to go" boxes or bags allow guests to choose the sugar fix of their liking, which may be enjoyed during or after the event. Not only does this serve as an icebreaker and activity for your guests, but such sugary goodness can serve as your wedding favor as well.
Champagne Bars
Bubbly is making a comeback! More and more you are seeing couples embrace the champagne fountain from long ago. Beautifully displayed champagne flutes adorned with fruit garnish or edible orchids make for a very pleasing interactive experience for your guests at your reception. Cheers!
Check out our Wedding Catering Pinterest board for inspiration from caterers who will be attending our 2020 showcase!
Check out the caterers who will be at the 2020 Uniquely Yours Bridal Showcase!
Baker's Crust
Chef By Design Catering
Cuisine & Company
East Beach Catering
Embassy Suites
Grand Affairs Catering
Kroger
Mission BBQ
Sweetwater Cuisine
Carolina Cupcakery
Incredible Edibles
Unique Sweets
Wedding Catering Tips // The Hampton Roads Wedding Guide

Hampton Roads' ultimate wedding planning magazine and website where you can plan the wedding of your dreams from start to finish. From inspiration checklists and planning articles, to the best wedding professionals in Hampton Roads, the Guide has it all. Visit hrweddingguide.com for more information.
Photography // Dragon Photo Studio
Mike Dragon specializes in creating images that are exciting, unique, and evoke an emotional response. Visit dragonphotostudio.com for more information.